The Bavarian Beer Garden Band is a uniquely northwest festival band with an unusual twist.  We wear traditional Bavarian trachten (lederhosen and dirndls) and play a large book of Oktoberfest schlager music, lively polkas and traditional waltzes, but we can also transform unexpectedly to a high energy dance show that we call the "Bavarian Blues Brothers" that raises the excitement level and gets the audience on their feet.  It's not unusual to see 600 people get up and dance when we launch into Blues Brothers tunes like 'Sweet Home Chicago', 'Soul Man' and party tunes like 'Mustang Sally' and 'Tequila'!  Our audiences never know what to expect next.
The Bavarian Beer Garden Band performs year-round at regional festivals, beer halls and beer gardens, senior centers and corporate and private events across the Pacific northwest.  If you're looking for entertainment, you've come to the right place!
A wide variety of media has been provided on this website to help give you a better sense of the band and its capabilities.  We always perform in costume - you bring the brats & beer, and we deliver the entertainment!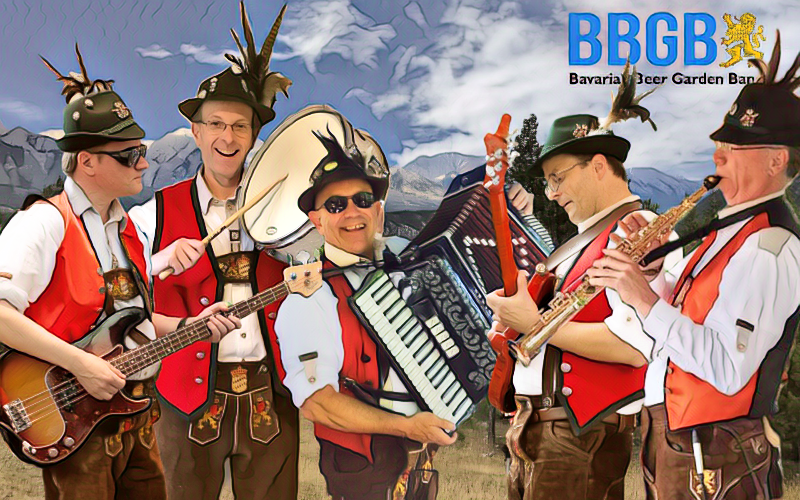 2018 Schedule (see Calendar for details)
Feb 24   - CROSSROADS BELLEVUE
Mar 16 - BRITTANY PARK, Woodinville
Mar 17 - WA WINE Commission - St. Patrick's Day BASH
May 12  - MAYFEST at the QUEEN ANNE BEERHALL,Seattle
May 25 - NW FOLKLIFE FESTIVAL
June 5 - CROSSROADS FARMERS MARKET, Bellevue
July 14   - CROSSROADS BELLEVUE
Sep 8  -  FISH BREWING TAPROOM, Woodinville
Sep 21-23 - KIRKLAND OKTOBERFEST, Kirkland
Sep 25 - CROSSROADS FARMERS MARKET, Bellevue
Sep 28-30 - OKTOBERFEST at the RIVER, Spokane WA
Oct 2 - BRITTANY PARK, Woodinville
Oct 5-6 - OKTOBERFEST NORTHWEST - Puyallup WA
Oct 13 - WINDERMERE Oktoberfest Event
Nov 17 - FAIRWINDS, Redmond